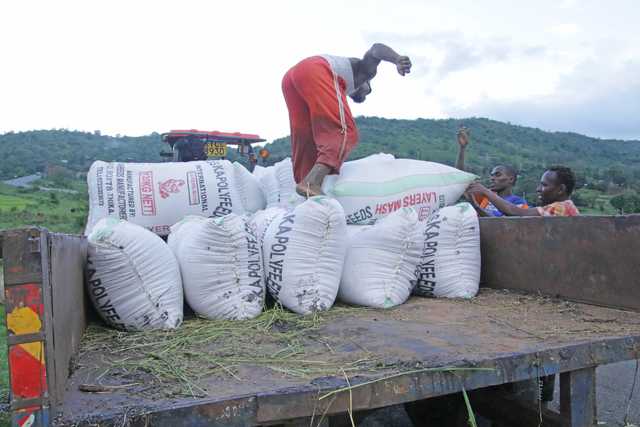 Commodities

Relief for consumers as rice price to drop on waiver of 35 per cent duty
Sunday December 18 2022

The cost of rice is expected to drop by 35 per cent starting February after the government abolishes the 35 per cent duty that is levied on the produce.
Kenya imports at least 80 per cent of rice consumed locally in order to fill the huge shortfall in production.
The Ministry of Agriculture says traders will be allowed to import at least 600,000 tonnes of rice duty-free between February and August next year.
"This duty waiver will cut the cost of rice by the same amount that millers pay as tax," said Rajan Shah, chief executive officer of Capwell Industries.
Mr Rajan, whose company processes Pearl Rice, said the country imports rice throughout the year with millers having to pay the 35 per cent duty on all imports.
Kenya which mainly imports rice from Pakistan shipped into the country 630,000 tonnes of rice last year valued at Sh31 billion.
ALSO READ: Maize, rice prices to be capped under new food produce rules
Prices have been increasing since the beginning of the year with a kilo of Mwea Pishori rice retailing at Sh180 from Sh160 in January.
Traders normally buy the pishori rice and blend it with other imports to sell it at a slightly lower price.
The waiver of duty will come as a relief to consumers who are grappling with the high cost of food and other non-food stuff such as fuel.
Rice is the second most important staple in the Kenyan households and its consumption has been growing 10 per cent yearly and now stands at more than 400,000 tonnes, according to State data.
The State has also issued a waiver on maize imports as it seeks to lower the cost of living occasioned by high prices of food commodities.
The National Irrigation Authority this year commissioned the Sh8.2 billion Thiba Dam in Kirinyaga County to expand the rice acreage at the Mwea scheme.
The dam will put an additional 10,000 acres under rice on top of the current 25,000 acres, coming as a major boost for local production at Mwea.
READ: Duty-free maize import to wait till February, says Linturi
Mwea is Kenya's largest rice scheme and accounts for 80 per cent of the country's annual production and has been relying on Thiba and Nyamindi rivers for the provision of water to farmers, however, these two water sources drop in levels during drought, affecting irrigation activities.
→ [email protected]
Source link
(This article is generated through the syndicated feed sources, Financetin doesn't own any part of this article)
Thank you for reading this post, don't forget to subscribe!