The Nasdaq Composite experienced something fairly unusual during Monday's rebound. According to one analyst, it's another reason to be cautious about stocks' nascent rebound this week.
The tech-heavy index
COMP
rose 1.6% on Monday, its strongest showing since July 28. But the Nasdaq Exchange's advance-decline line, a measure of the number of stocks listed on the exchange that finished higher compared with the number that closed lower, continued to deteriorate. According to Bloomberg data cited by BTIG's Jonathan Krinsky, the exchange's advance-decline line was negative 175 on Monday.
It's uncommon for the Nasdaq to see such a large increase while a majority of its components fall, even during a year like 2023 in which a handful of megacap technology stocks have received tons of attention in the financial press for their outsize contributions to the yearly gains of the S&P 500 and Nasdaq.
Gains for the so-called Magnificent Seven stocks even prompted the Nasdaq to rebalance the Nasdaq 100, its most popular index, to lessen its dependence on a handful of megacap stocks.
See: Here are 4 of the biggest changes to the Nasdaq 100 from Monday's special rebalancing
That group is made up of Tesla Inc.
TSLA,
+0.99%,
Nvidia Corp.
NVDA,
-2.32%,
Meta Platforms Inc.
META,
-0.17%,
Microsoft Corp.
MSFT,
+0.58%,
Amazon.com Inc.
AMZN,
+0.17%,
Apple Inc.
AAPL,
+0.85%
and Alphabet Inc.'s Class A
GOOGL,
+1.12%
and Class C
GOOG,
+1.19%
shares.
By Krinsky's count, there have only been nine other instances since the beginning of 2007 when the Nasdaq Composite gained 1.3% while the number of declining stocks outnumbered those on the rise. He lists them in the chart below.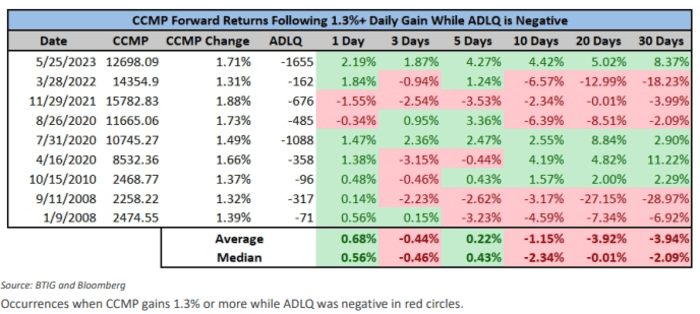 Returns for the Nasdaq over the 30 days following each of those times have been decidedly mixed. But among the most recent examples prior to Monday, the index was lower 30 days later three times out of four. After an example on March 28, 2022, the index proceeded to fall 18.2% over the following 30 days. On the other hand, the index gained 8.4% during the 30 days following May 25, 2023, the most recent example prior to Monday.
Krinsky maps out these moves in the charts below.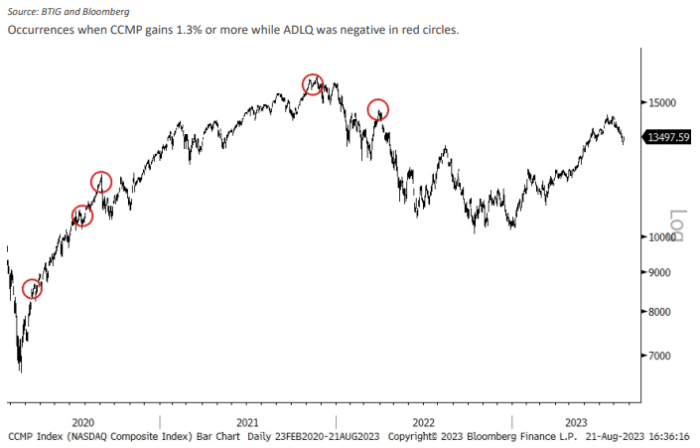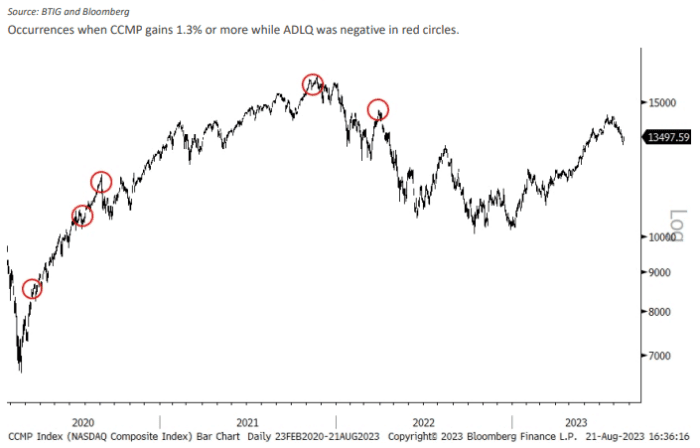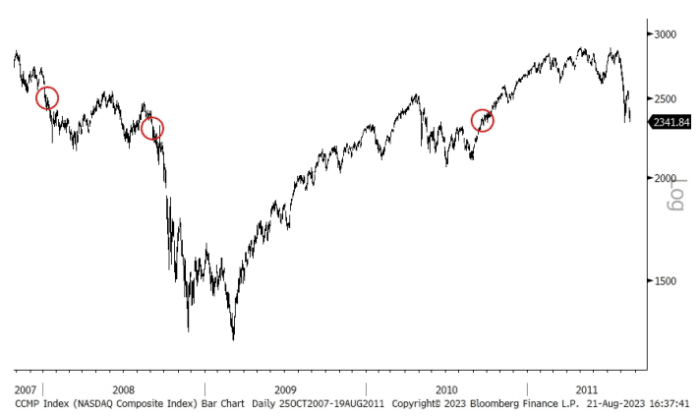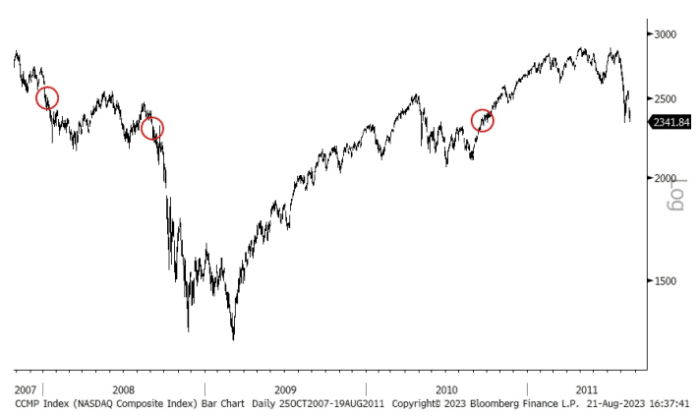 So what can investors learn from all this? The Nasdaq's Monday advance was largely a factor of strong gains in a handful of stocks. Nvidia gained 8.5%, its biggest such gain since May 25, FactSet data show. That's the day after the chip maker and artificial-intelligence darling's blockbuster earnings report from last quarter that resulted in the stock logging one of the biggest daily increases in market capitalization for any stock ever in the history of modern U.S. financial markets.
Tesla Inc. gained 7.3%, its best daily gain since March 21. Apple, Microsoft and several other members of the group also saw strong gains relative to the weakness in the space seen over the past month.
Krinsky told MarketWatch in a phone call that Monday's gains in Nvidia and Tesla were likely driven by traders frontrunning Nvidia's upcoming quarterly earnings report, which is due out Wednesday after markets close. If it wasn't for this trading, it's likely that rising Treasury yields would have pressed harder on stocks.
"They're buying what worked after Nvidia's last earnings report, which was a lot of the Magnificent Seven stocks," Krinsky said.
"I would have thought a new high on 10-year yields would have dampened the enthusiasm a bit," he added.
The yield on the 10-year Treasury note
BX:TMUBMUSD10Y
jumped 8.8 basis points on Monday to 4.339%, its highest end-of-day level since Nov. 6, 2007, FactSet data show. Bond yields move inversely to prices.
The yield on the 10-year note was marginally lower Tuesday in recent trading, while the S&P 500
SPX
was up 0.1% at 4,402. The Nasdaq Composite
COMP
was trading 0.4% higher around 11:30 a.m. Eastern time on Tuesday, at 13,546. The Dow Jones Industrial Average
DJIA
was off by 85 points, or 0.3%, to 34,377.
Both the S&P 500 and Nasdaq logged three consecutive weekly declines through Friday's session, the longest such streak of losses for the Nasdaq since December, FactSet data show.