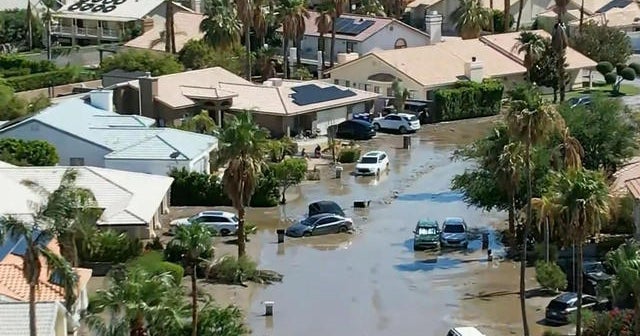 Cleanup operations are in full swing across Southern California as communities grapple with the aftermath of Tropical Storm Hilary, which brought historic rainfall to the region. 
Crews have been working tirelessly over the past 24 hours to clear mud and debris, rescue stranded residents and try to restore normalcy to areas that hadn't witnessed such intense rain in nearly a century. Some areas saw rainfall totals that almost met their average rainfall total for the year. 
"In a matter of three minutes, my whole back, my whole bottom floor was filled up with water to waist level," said Ronald Mendiola, a resident of Cathedral City, a desert city in California's Riverside County.
Mendiola's family of five was stranded on their roof as debris and water rushed through Cathedral City until a Good Samaritan rescued them.   
Hilary had strengthened into a Category 4 hurricane in the Pacific before crashing ashore in Mexico over the weekend as it barreled north. It later hit California as a tropical storm. In its wake, entire neighborhoods were buried under mud and debris. One person remains unaccounted for. No fatalities have been reported.   
Rescue crews have been working diligently to free trapped residents from their homes, sometimes using backhoes to move people to safety. The storm also led to treacherous driving conditions on flooded roads, with several incidents reported. 
San Bernardino County firefighters found themselves in a dangerous situation when investigating a rumbling sound, only to be confronted by a massive debris flow — leaving the crew temporarily trapped at their station. 
The devastation caused by Hilary extended to Oak Glen, where buildings were severely affected. Kyle McCullough, a resident, said a building his father owned and dreamed of turning into a restaurant has been left gutted due to the waters. 
"I don't think we'll be able to fix it," McCullough said. 
Despite the challenges, residents like Suzanne Doucette, who has lived in Oak Glen for nine years, are determined to rebuild. 
"We'll clean it up. We've done it before, we'll do it again," Doucette said. 
Although the rain has subsided in most areas, officials are cautioning about the risk of mudslides and debris flows due to heavily saturated ground. 
The storm is now moving northwest and communities in its path are bracing for more rain and the potential for flooding. There is a glimmer of hope that the storm's path might bring relief to fires burning in Washington state. 
Source link
(This article is generated through the syndicated feed sources, Financetin neither support nor own any part of this article)