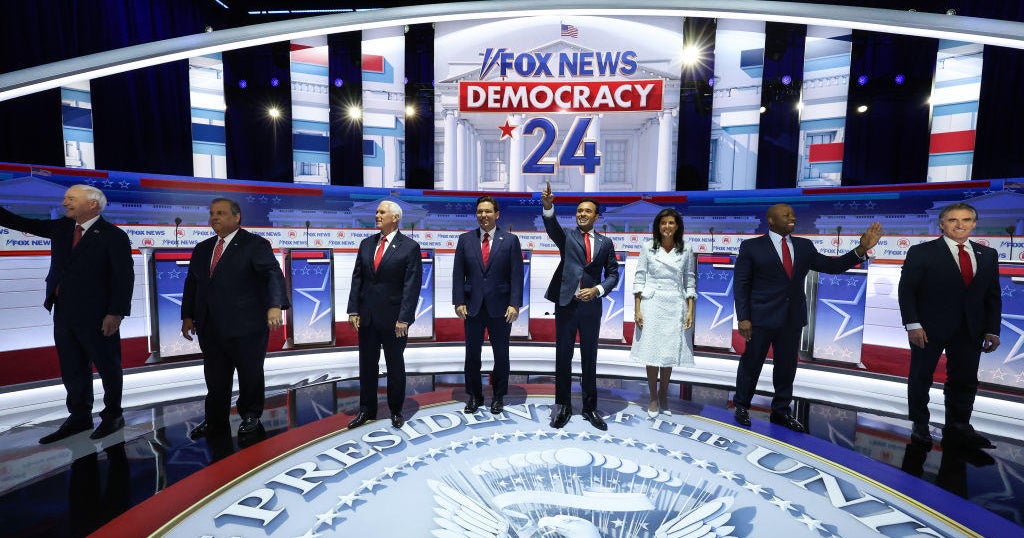 The first Republican debate of the 2024 presidential primary cycle is underway in Milwaukee, where eight GOP candidates are hoping to set themselves apart from a crowded field with less than five months until the Iowa caucuses.
The candidates debating Thursday night include:
The debate is also notable for who isn't on stage: former President Donald Trump. The GOP front-runner chose to skip the showdown and instead taped an interview with Tucker Carlson, which is being released in tandem with the debate. A CBS News poll released Sunday showed Trump with a wide lead over the rest of the field, earning the support of 62% of likely Republican primary voters. DeSantis was a distant second, earning 16% support.
To kick off the debate, most candidates trained their fire at President Biden over inflation, the national debt, government spending and other economic issues. Haley was the first to criticize a fellow Republican, hitting Trump for his administration's spending record. Pence then took aim at Ramaswamy, who has been rising in the polls. Pence called the 38-year-old a "rookie" who would need "on-the-job training" in the White House. 
The debate, which is airing on Fox News, gives some of the lesser-known candidates a chance to break through and make their case before the largest audience of voters they have had to date. On the flip side, poor debate performances have doomed many candidates in the past before their campaigns have even gotten off the ground. 
To qualify for the debate, candidates needed to reach at least 1% in multiple eligible polls, gather at least 40,000 donors and sign a pledge committing to support the ultimate GOP nominee. They were also required to vow not to participate in unsanctioned debates.
We'll be adding highlights and notable moments from the debate below throughout the night.
Nikki Haley criticizes Trump and other Republicans over government spending
Haley, the former governor of South Carolina, came out swinging against several of her Republican opponents over the nation's fiscal state, singling out DeSantis, Scott and Pence for voting on legislation that raised the national debt. She also took aim directly at Trump for adding $8 trillion to the debt during his only term.
"Our kids are never going to forgive us for this," said Haley, who served as the U.S. ambassador to the United Nations in the Trump administration.
She pointed the finger at Republicans for approving a $2.2 trillion COVID relief bill during Trump's presidency and for bringing back earmarks. In the 2024 budget, Republicans requested $7.4 billion in earmarks compared to Democrats' $2.8 billion.
"You tell me, who are the big spenders?" Haley said. "I think it's time for an accountant in the White House."
Haley has a bachelor's degree in accounting and served as the chief financial officer of her family's clothing business.
Pence takes aim at Ramaswamy: "We don't need to bring in a rookie"
Pence targeted the 38-year-old Ramaswamy early in the debate, calling him a "rookie" who lacks experience to be president.
"I was the first person in this race to say that we've got to deal with the long term national debt issues. You've got people on this stage that won't even talk about issues like Social Security and Medicare. Vivek, you recently said a president can't do everything. Well, I've got news for you, Vivek. I've been in the hallway. I've been in the West Wing. The president of the United States has to confront every crisis facing America." 
Ramaswamy fired back that solving the country's economic issues "isn't that complicated" and listed off a number of his solutions. 
"I'm not sure I exactly understood Mike Pence, his comment, but I'll let you all parse that out," he said. 
"I'll go slower this time," Pence said. 
"You know, I sometimes struggle with reading comprehension," Ramaswamy quipped. 
Pence added: "Now is not the time for on-the-job training. We don't need to bring in a rookie. We don't need to bring in people without experience" 
Candidates debate federal ban on abortion
The GOP presidential hopefuls sparred for the first time face-to-face on abortion rights and whether there should be a federal law banning abortion, an issue that is likely to be key in the 2024 general election. Among likely Republican voters, though, candidates' plans to stop abortion ranked the lowest in importance of any policy goals that were included in a new CBS News poll. 
Haley began by characterizing herself as "unapologetically pro-life," but said the issue of abortion is personal. She urged her fellow Republican candidates to be honest with the American people about the prospects of a federal abortion ban passing the House and Senate, given that in the upper chamber, 60 votes are needed for legislation to advance.
"Don't make women feel like they have to decide on this issue when you know we don't have 60 Senate votes," Haley said.
The former governor of South Carolina — where the legislature passed a law outlawing most abortions once embryonic cardiac activity is detected — said lawmakers need to find consensus on abortion-related measures, including banning late-term abortions, encouraging adoptions, making contraception available and ensuring women who get an abortion are not punished for doing so.
DeSantis, who signed Florida's bill banning abortions after six weeks in April, said he was proud to sign that measure into law and said he believes "in a culture of life."
Asked whether he would sign a federal law that outlawed abortion after six weeks of pregnancy, DeSantis said he would "stand on the side of life," but said he understands a state like Wisconsin is going to approach the issue of abortion differently than Texas.
"I will support the cause of life as governor and as president," the Florida governor said.
Scott reiterated his support for a nationwide 15-week limit, while Pence, too, said a ban on abortions after 15 weeks is "an idea whose time has come."
Burgum, who signed a near-total ban on abortion in North Dakota, renewed his opposition to a federal law outlawing abortion, as he believes the issue should be left to each state.
"We need to get back to freedom and liberty for the people," he said.
All candidates except Christie and Hutchinson say they would support Trump if he's convicted 
Fox News host and moderator Bret Baier brought up what he called the "elephant not in the room," and asked the candidates to raise their hands if they would still support Trump as the Republican presidential nominee even if he is convicted of a crime. The former president faces dozens of felony charges across two state cases and two federal cases.
All candidates on stage except Hutchinson and Christie ultimately raised their hands. Pence was the last candidate to do so. 
"Someone has got to stop normalizing this conduct," said Christie, the most vocal Trump critic among the field. "Whether or not you believe the criminal charges are right or wrong, the conduct is beneath the office of the president of the United States."
Christie and Ramaswamy got into a row over support for Trump, and Christie blasted Trump for saying it would be OK to suspend the Constitution. 
"I will always stand up for our Constitution, regardless of the political pressure," Christie said. 
On the topic of Jan. 6, 2021, Scott said Pence did the right thing by allowing for the certification of votes. But Scott said one of his first actions as president would be to fire Attorney General Merrick Garland. 
"We need lady justice to wear a blindfold," Scott said. 
Haley explained her answer by saying, "I trust the American people. Let them vote, let them decide." But she said the reality of the polling is, Trump is the most "disliked" politician in America, and the American people believe it's time to move on. 
Ramaswamy posed a question of his own, asking Pence if he would pardon Trump on day one. Pence asked Ramswamy why he would assume Trump would be convicted of any crimes. 
"If I'm president of the United States, we'll give fair consideration to any pardon request," Pence said. 
Candidates answer whether they believe Pence did right thing on Jan. 6 
A majority of the candidates said they believed Pence did the right thing on Jan. 6, 2021, by refusing to overturn Joe Biden's election victory as he presided over the ceremonial certification of the results at the U.S. Capitol.
Christie, Scott, Hutchinson and Burgum all said the former vice president did the right thing. 
"Mike Pence stood for the Constitution, and he deserves not grudging credit — he deserves our thanks as Americans for putting his oath of office and the Constitution of the United States before personal, political and unfair pressure. And the argument that we need to have in this party before we can move on to the issues … is, we have to dispense with the person who said we need to suspend the Constitution to put forward his political career," Christie said. "Mike Pence said no, and he deserves credit for it." 
DeSantis declined to give a straight answer after repeated pressing from the debate moderators. 
"Mike did his duty and I've got no beef with him," DeSantis said. 
Ramaswamy was not asked the question, but jumped in to defend Trump and reiterated that he would pardon Trump if he is elected president. 
Source link
(This article is generated through the syndicated feed sources, Financetin neither support nor own any part of this article)