This 1970 film from Brazilian director Glauber Rocha is an avant-gardist adventurethat offers us a theatre of absurdity and a theatre of cruelty of an obviously Godardian sort, and Rocha arguably had quite as much sense of composition and camera movement as Godard. (Rocha actually has a cameo in a film Godard worked on, Wind From the East, in which a woman with a movie camera approaches him and says: "Excuse me for interrupting your class struggle, but could you please point me the way towards political cinema?")
The Lion Has Seven Heads is a denunciation of imperialism and an essay in revolutionary thinking that is very much of its time. Opinions may divide now about exactly how well this film has aged; certainly, there is bit of posturing, and the casual use of "Marlene" (Rada Rassimov) – a naked blond woman writhing around and being variously pawed, harangued and imprisoned – as a symbol of colonial desire shows how very male leftist political cinema could be.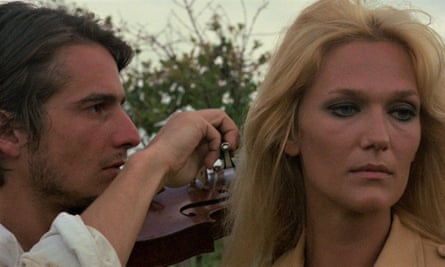 The title refers to the seven-headed beast of the Book of Revelation, symbolising perhaps the earthly oppressive forms of power deployed by the antichrist: kings, consuls, dictators, magistrates, tribunes, emperors and potentates (although of course any amount of exegesis is possible). Jean-Pierre Léaud plays a white-robed preacher striding and declaiming with surreal strangeness across the landscape of Congo-Brazzaville. A weirdly detached, choric figure, he meets a Congolese revolutionary with whom he appears to make common cause, a guerrilla fighter and a bourgeois local politician who is being controlled by outside forces, including the CIA.
The film proceeds in a series of bizarre and startling tableaux, often composed in such a way that everyone is addressing the camera head-on. Nonprofessional Congolese dancers and people are used, performing in the background to stylised and contrived situations in front of the camera. The use of the local people in this film is something else that jars a little now in its not-so-subtle condescension, particularly the rather crass mock execution scene. In fact the film itself is a kind of outsider incursion.
But The Lion Has Seven Heads has its own fierce, mad conviction, a bad dream being reconstructed by actors after the event – and the film itself has historical value. This was a time when revolution and the purported inevitability of revolutionary violence was a live issue on the left, and this film engaged with these troubling ideas.
Source link