The health workers arrive on a wooden cart, hijabs blowing in the wind, as they are pulled along a dirt road by a horse. Sand swirls in the air as children run behind, trying to keep up. When the cart comes to a stop, the health workers climb out, holding large white boxes.
"We want to reach as many of the women here as possible," says Nagma Khatun, a paramedic working in the Kurigram district of Rangpur in northern Bangladesh. In the boxes are self-testing kits for human papillomavirus (HPV), the main cause of cervical cancer.
Cervical cancer is a growing global health challenge, with more than 604,000 new cases diagnosed worldwide in 2020 and an estimated 342,000 women killed. About 90% of the new cases and deaths occurred in low and middle-income countries, where access to preventive measures and treatment is often limited. In Bangladesh, a delta nation crisscrossed by rivers and tributaries, such access can prove particularly difficult, especially for those living on the shifting sand islands – known as chars – of the Brahmaputra and Jamuna rivers.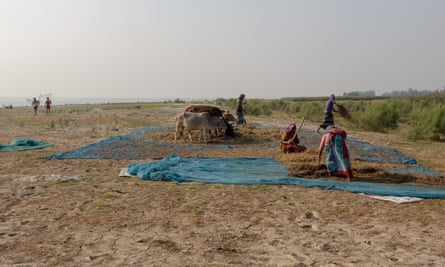 "These are some of the most isolated communities in the world," says Khatun, who works for Friendship, a charity that serves Bangladesh's hardest-to-reach communities. The organisation began operations in 2002 after pioneering one of the first NGO-run hospital ships in the world.
In Bangladesh, cervical and breast cancers are now the most common killers of women, following the pattern of the last decade in the developing world as diseases shift from communicable to non-communicable. An estimated 17,686 new cases and 10,362 deaths from cervical cancer occur annually. According to the International Agency for Research on Cancer, more than 50 million Bangladeshi women are at risk of developing cervical cancer. If diagnosed at the precursor stage, cervical cancer can be successfully treated. Friendship has been working to screen and prevent cervical cancer since it started, but in 2021, it began implementing the Prevention and Screening Innovation Project Towards Elimination of Cervical Cancer (Prescrip-tec), an EU-funded project that is focused on reaching remote communities.
On a sunny afternoon, in a small courtyard in Kamarbashpata, a char in Kurigram district, a health-awareness session is taking place. More than a dozen women aged between 30 and 50 sit cross-legged in a circle, beneath a canopy that shields them from the sun. A mother breastfeeds her baby under her sari while a toddler scrambles on the back of another; this is a safe space and the women are invited to bring their children along so they don't have to worry about childcare. "Awareness and community mobilisation is key to prevention but we need to make it easy for these women to attend," says Khatun as she joins the circle.
The courtyard session is led by Sumi Begum, a Friendship Community Medic-aide (FCM), who sits at the front in a blue jacket behind a diagram of a cervix. "Cervical cancer is easy to identify and the screening process is inexpensive. But the social stigma attached to it in this remote region means that women tend to neglect the situation, letting it worsen over time," says Begum.
She is one of hundreds of local women trained by Friendship to provide basic medical services in their community, including referrals, ante and postnatal care, nutrition, family planning and hygiene awareness.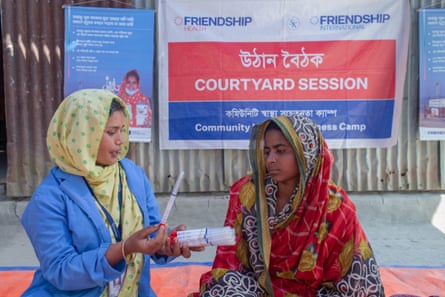 Today, Begum is teaching the village women about the health risks arising from cervical cancer and how to prevent them. "Most women here are unaware of the detrimental nature of cervical cancer," says Begum. "Even when they become aware, most feel ashamed to seek help as it would require an examination of their private parts."
After the session, the self-testing kits are handed out and health workers are on hand for women who want to test there and then. The health workers are equipped with MHealth, a mobile-based app that helps them gather and store patient data, and connect to a doctor whenever they need.
The completed tests are sent off to a lab, and only those who are HPV positive are invited for further screening. In 2021, 18,294 women in Bangladesh were screened through Friendship's activities. Of them, 171 tested positive for HPV; 140 patients were treated with cryotherapy and thermal ablation, while 29 were referred for advanced treatment.
Yet despite the increased awareness in the area, many women remain reluctant to participate in the programme.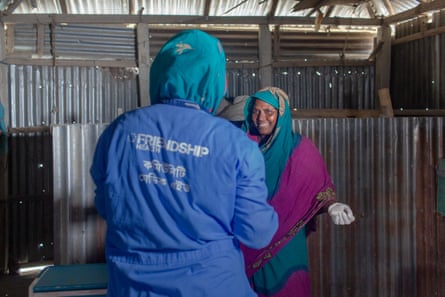 "I once met a woman who denied having a cervix, simply because she didn't want to talk to us," says Khatun. "Another woman asked us if we had nothing better to do than to talk about vaginas all day – before closing the door in our face."
Nevertheless, the health workers persist. "Society teaches girls to be ashamed of their vaginas," says Khatun. "From a young age, boys run around naked and nobody says a thing, while girls are taught to cover up and sit with their legs crossed. But vaginas are important. There would be no mankind without vaginas so it's important that we take care of them."
On a cool, clear morning, Dr Mosamat Kulsum heads over to EFH, the floating hospital ship where she works, currently stationed in Chilmari, a subdistrict of Kurigram. The ship mainly serves villagers living on nearby chars, though some patients come from farther afield.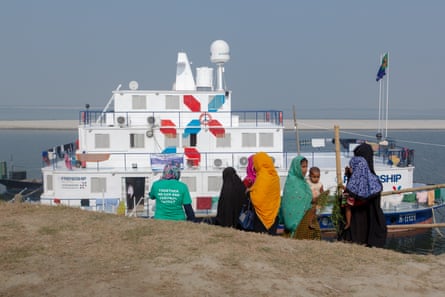 A long line of patients queue outside the ship, which means a busy day ahead. Kulsum's first patient, Lucky Begum, arrives after a two-hour journey by water taxi from Majhipara, a char north-east of Chilmari accessible only by boat, where she lives with her husband and three children. The water taxi costs 500 taka (about £4), which is unaffordable for most char dwellers, so Friendship covers the cost of these trips. Begum carefully walks along the wooden plank connecting the land to the ship, washing her muddy feet with a bucket of water, before making her way to her appointment.
After completing a self-swab at home last month, the 35-year-old has been called to the hospital for further screening. "I'm not quite sure what to expect," says Begum, nervously, as she waits in line. When her name is called, she gets up and hurries into the gynaecology room. "Today, we'll be conducting a visual inspection with acetic acid (VIA) to diagnose any precancerous lesions that might need treatment," Kulsum tells her.
The procedure takes less than 10 minutes and Kulsum is able to confirm the negative result almost immediately. "I feel so relieved," says Begum. "The process was a little uncomfortable but it was worth it for my peace of mind."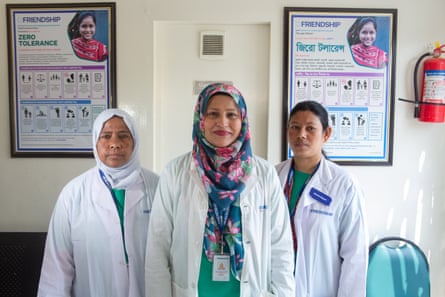 Another patient, Shantoni Rani, 34, also from Majhipara, arrives for a checkup. Rani remembers attending her first courtyard session five years ago and completing her VIA screening soon after. "The results were negative and I felt relieved," says Rani, a mother of three. So, when she was called for her routine follow-up in December 2022, Rani wasn't too concerned. But then her health worker rang her and asked her to come in for further tests. "I started to get worried," says Rani. "I thought if something is wrong with me, what will happen to my children?"
On the hospital ship an assessment is carried out based on images of her cervix. The results confirmed her fears; she had developed precancerous lesions. "We decided to begin her treatment immediately," says Kulsum. "Patients with precancerous lesions are usually treated directly in the location where the VIA is performed, which also reduces travel time and the likelihood of dropout."
Since being diagnosed, Rani has been undergoing thermal ablation therapy, which uses heat to destroy tumour cells. "I'm grateful for the free treatment I'm getting, which I couldn't afford myself," says Rani. "It can feel scary but the health workers are always there to hold my hand. I'm lucky they picked up the virus when they did and started the treatment – I may not be alive otherwise."
As the sun sets over the rippling waters of Chilmari, the only sound is the water lapping up against the side of the ship. A small wooden boat suddenly arrives, delivering a large cool box containing the latest batch of completed self-swab kits. A health worker comes out on to the deck to receive it; taking it into the ship to be processed and analysed.
"No woman should ever have to die because of cervical cancer, a disease that's entirely preventable," says Kulsum as her shift draws to a close. "We know what causes it, we know how to prevent it, and it's time we put an end to it."
Source link