It is a leafy oasis in a city smothered in paved streets and concrete high-rises; a mecca for sports fans who flock to baseball and rugby matches at its two historic stadiums; and a place of tranquility where, while attending a ballgame in 1978, Haruki Murakami decided to become a novelist.
But if developers and the Tokyo metropolitan government get their way, Meiji Jingu Gaien, a popular park in the centre of Tokyo, will be bulldozed and turned into a commercial hub dominated by two skyscrapers, a hotel and new sports venues.
Built almost a century ago with private donations to honour the Meiji emperor, the 66-hectare (163-acre) park is a much-loved bolthole for Tokyoites who stroll or, like Murakami, jog along its paths in the shade of hundreds of trees, including majestic gingko dating back to the park's birth.
The redevelopment, led by the real estate firm Mitsui Fudosan, and approved by the Tokyo metropolitan government in February, will see the construction of two 200 metre-tall buildings and replacements for the 97-year-old Meiji Jingu stadium – where Lou Gehrig and Babe Ruth played during a US baseball tour in 1934 – and Chichibunomiya stadium, the spiritual home of Japanese rugby.
According to campaigners, the ¥349bn (£1.9bn) project, due for completion in 2036, will also spell the end for almost 1,000 trees, as well as destroying the area's architectural heritage. Jingu Gaien's fate, they say, has been sealed behind closed doors, with inadequate environmental assessment or consultation with local residents.
"This is like building skyscrapers in the middle of Central Park," said Mikiko Ishikawa, an emeritus professor at Tokyo University. "Tokyo would lose its soul."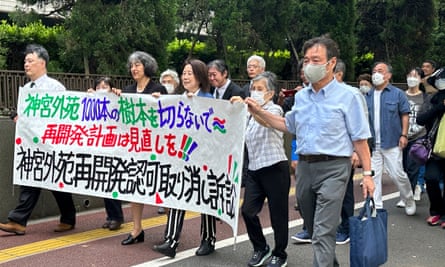 While small-scale construction work has already begun, the movement to block the project is gaining momentum, with an estimated 6,000 people attending a demonstration in the park in April.
Petitions to block the plans have secured hundreds of thousands of signatures. Opponents include an unlikely coalition of environmentalists, conservative politicians who revere the site's imperial connections, urban planners and athletes.
"Those of us who love rugby do not want to be part of sportswashing – the destruction of the environment under the guise of sports," said Tsuyoshi Hirao, a former Japanese rugby international.
The redevelopment is part of the city's Olympic legacy, with the park's skyline now dominated by the main Tokyo 2020 stadium, which stood largely empty during the Games due to coronavirus restrictions on spectators. About 1,500 trees were cut down to make room for the stadium.
Opponents have called for the existing buildings to be refurbished rather than demolished, and for all of the trees to be spared.
But the redevelopment has the backing of powerful politicians, including Yoshiro Mori, a former Japanese prime minister and self-proclaimed rugby fan, who was forced to resign as head of the Tokyo 2020 Olympic organising committee after a sexist outburst directed at female sports administrators.
The current rugby stadium, built in 1947 and named after Prince Chichibu, will reportedly be replaced by a domed, all-purpose venue with an artificial pitch and a dramatically reduced seating capacity.
The author Robert Whiting, who watched his first baseball match at neighbouring Meiji Jingu in the 1960s, said he was "disgusted" by plans to raze and replace the stadium.
"Meiji Jingu stadium is a national treasure," Whiting said. "It is an oasis of tranquility in the middle of a crowded, sprawling, noisy city – part of the vast, forested Meiji shrine complex. I absolutely love going there. But now it's going to be replaced by a glossy new facility with skyscrapers, a hotel and a shopping centre – all in the name of profit. What's happening at Meiji Jingu is part of a larger phenomenon – major construction companies tearing down one Tokyo landmark after another."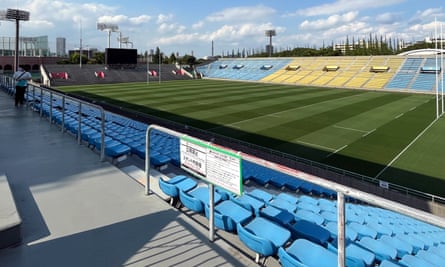 Shortly before his death in March, the musician and composer Ryuichi Sakamoto pleaded with the governor of Tokyo, Yuriko Koike, and Meiji Jingu shrine, which owns the land, to reconsider. "We should not sacrifice valuable trees that our forerunners have protected and grown over 100 years in favour of near-term economic benefits," he said in a letter.
The Japan Icomos National Committee, an advisory entity to Unesco, has also called for the project to be urgently overhauled.
The public is on their side. A poll last month in the Tokyo Shimbun newspaper found that 69.5% of respondents opposed the plans, with just 5.7% in favour.
Campaigners say felling trees makes no sense in a city that has precious little green space and where the heat-island effect is already a major concern. Global heating has contributed to a 1.5C increase in temperatures in the Japanese capital since 1964 – nearly three times the global average – according to the Nasa Earth Observatory, while it ranks 37th out of 40 large global cities for public green space, the World Cities Culture Forum said.
Developers have said some of the oldest gingko trees will be spared and saplings planted in other areas, but experts believe construction work near the tree line will cause irreparable damage to their roots. "If the gingko trees – the centrepiece of the district's landscape – die off, the scenic beauty of the area will be seriously compromised," the Asahi Shimbun said in an editorial earlier this year.
The Tokyo metropolitan government argues that the park and its ageing sports venues are in desperate need of a makeover. Tokyoites deserve state-of-the art sports and leisure facilities, officials have said, adding that the new complex will reduce congestion and improve barrier-free access.
Rochelle Kopp, a management consultant who is part of a lawsuit to halt the redevelopment, accused the Tokyo metropolitan government of ignoring the wishes of the city's residents.
"The Jingu Gaien redevelopment project was cooked up without any input from the public," Kopp said. "This undemocratic approach to redevelopment projects is out of step with the times. Now that the public has learned how destructive this project is to the environment and history, they are speaking out, and their voices need to be paid attention to."
Associated Press contributed reporting
Source link