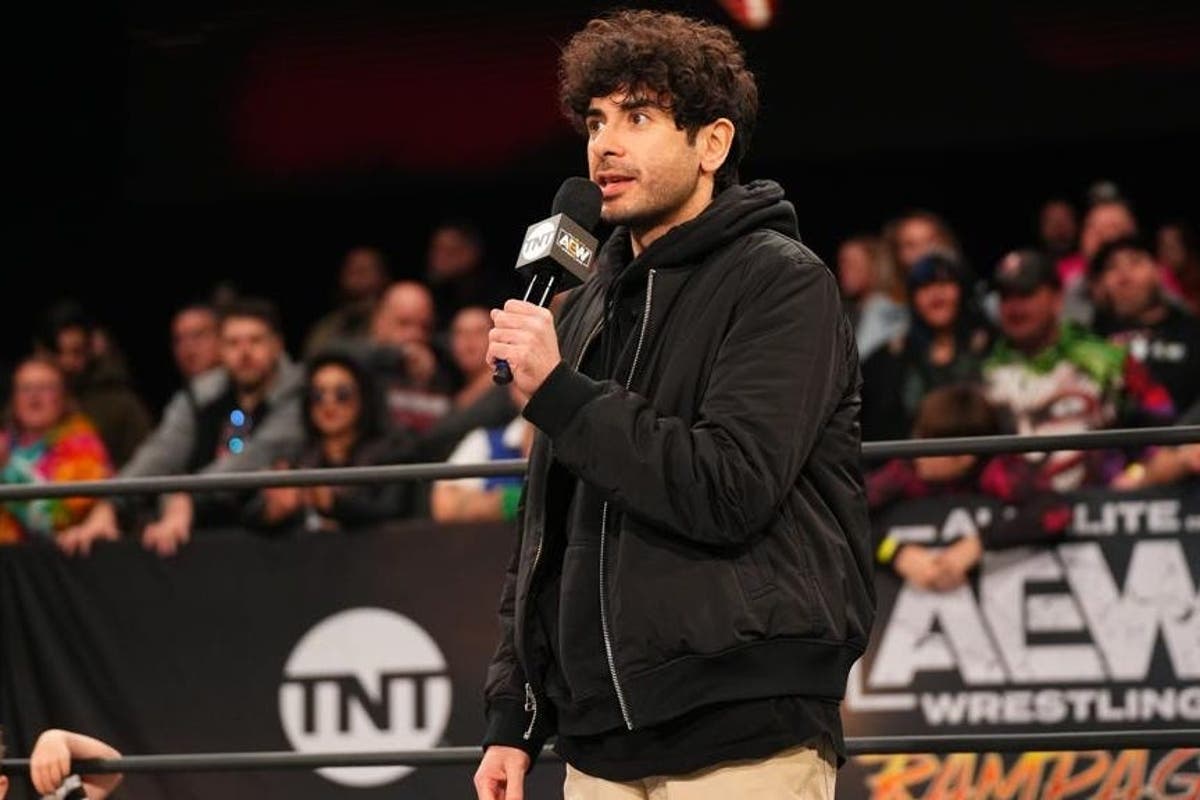 Tony Khan has hailed London as the "worldwide capital of sport" as Fulham's director of football completes a personal hat-trick by bringing All Elite Wrestling to Wembley Stadium.
The 40-year-old announced during AEW Dynamite – the promotion's live Wednesday night show – that its first event outside of North America would be staged at Wembley on August 27.
The 'All In' pay-per-view will take place in familiar surroundings for Khan, who has seen Fulham earn Premier League promotion with two play-off wins at the stadium.
His NFL franchise Jacksonville Jaguars, meanwhile, have played eight International Series matches on the same turf and are back again this year.
Fulham and the Jaguars are both owned by Khan's father, Shahid Khan, who came close to buying Wembley Stadium in 2018 before pulling his offer late in the process.
Now Tony Khan is preparing to take his third venture to the national stadium, fulfilling a dream he had when first setting out on his professional wrestling journey.
"I believe London is the worldwide capital of sport," Khan told the PA news agency.
"It is one of my favourite sporting grounds on the planet, in my favourite city on the planet and for the 100-year anniversary of Wembley Stadium, I thought this is a huge announcement for all of us in AEW.
"I have so many great memories at Wembley Stadium. Great memories with Fulham and also great memories with the Jaguars at times.
"Taking AEW there will be one of greatest moments in my life personally. My family has had so much great history there.
"I think the greatest moment of my life up to this point was probably when Fulham won the play-off final in 2018 against Aston Villa and we celebrated as a family and celebrated as a football club.
"I remember when I walked off the pitch with Aleksandar Mitrovic, and we were both saying that this is a day we wished could last forever.
"Now to look back at that, and know that about just roughly five years later, we'll be returning for AEW All In knowing all the things that have happened since then, to get to this point, I think this will be one of the greatest moments in my life.
"This is the moment I've been dreaming of for AEW since before we even launched the promotion. It's a dream come true."
Not since 1992 has Wembley – in its former guise – hosted professional wrestling, with Cardiff's Principality Stadium and the O2 Arena in London been used in recent years.
But, for Khan, there was only one place to take his own wrestling promotion, which he launched in 2019 and sees him have a hands-on role with all aspects of the company.
"I had two places I would like to run AEW – Wembley Stadium and Craven Cottage," he revealed.
"However I do believe for the history of Wembley Stadium and for the capacity of the event that Wembley is right now the best place for this event. Craven Cottage would present too many logistical challenges for a wrestling show of this size.
"I definitely believe that it's long overdue for a major professional wrestling event to emanate from Wembley Stadium. It is unbelievable that it's been over 30 years but I think the timing is right now.
"I think Wembley is the true embodiment of the ultimate sporting ground, in the best city in the world. I'm surprised there has not been any attempt to run a major wrestling event there in decades."
Khan also has no plans for this to be a one-off UK show as AEW's audience continues to grow on ITV – which runs both weekly shows produced by the company.
"I hope it's very successful, I would love to come back," he added.
"The Jaguars have had a long-term commitment at Wembley Stadium and at Fulham, we've had great memories at Wembley Stadium.
"If this is the sort of success that we expect it will be, then surely we would look to follow up on it and return.
"I hope we can build an event for the fans in London that they'd look forward to that will be fitting of the massive fan support in the UK, and the prestige of Wembley Stadium."
:: Tickets for AEW: All In London at Wembley Stadium on August 27 go on sale to the general public on May 5 – fans in the UK can now pre-register for early access to purchase tickets at ticketmaster.co.uk/AEWWembley.
Source link