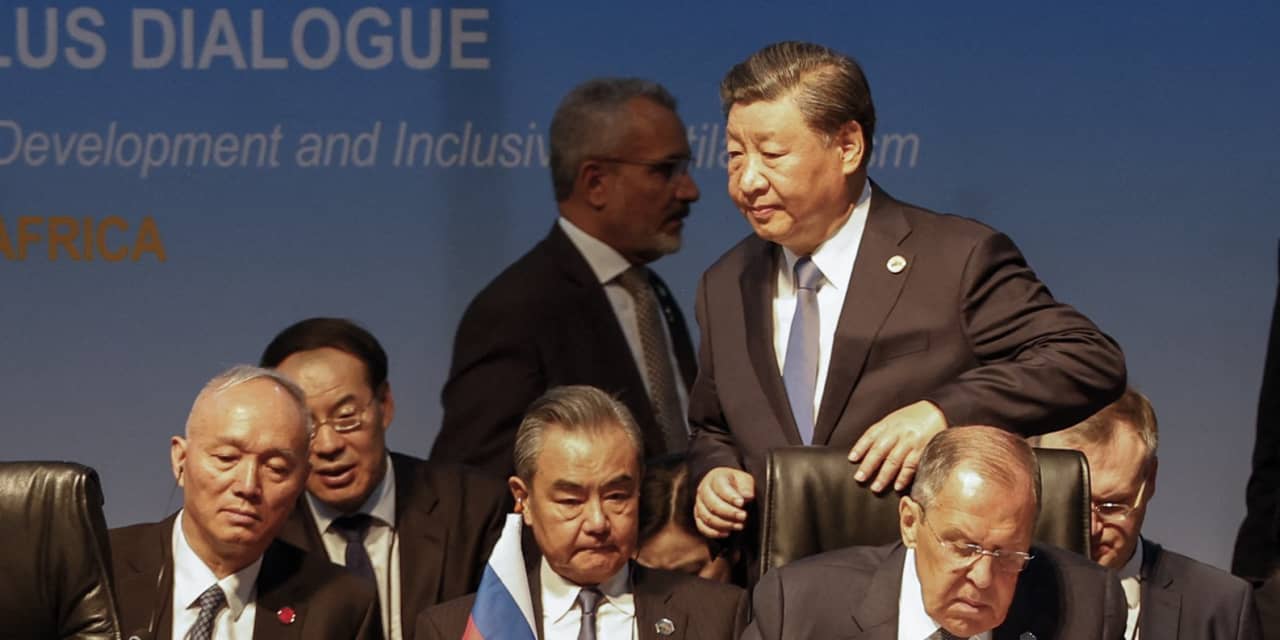 China's still-floundering economy is only one of a laundry list of worries for foreign businesses active in the country, yet most still plan on investing significant sums into their Chinese operations, according to two much-anticipated reports this week.
Uncertainty over Chinese government policy, U.S.-China tensions, toughening local competition and pressure from the Biden administration to reduce reliance on China topped concerns among firms surveyed in the American Chamber of Commerce in Shanghai's annual China Business Report.
While companies' optimism about their prospects in the country hit an all-time low, there was a slight uptick in the percentage of businesses that plan to increase their investments in China this year, to 31% from 25% last year.
"The [economic] rebound has not materialized and business sentiment has continued to deteriorate," the chamber wrote in its report.
The findings mirrored those released the same day in a massive report from the European Union Chamber of Commerce in China, which, alongside its list of concerns among its members, included more than 1,000 "constructive recommendations" to the Chinese government.
While conditions in the country remain challenging, forays into relocating operations away from China accelerated.
Of the 40% of American companies shifting their investments away from China, Southeast Asia ranked as the leading relocation spot, with the U.S. and Mexico as the next most popular choices.
See: U.S. companies looking to move manufacturing from China turn to India
Other metrics worsened from last year.
Only 26% of businesses surveyed said China was among their top three investment destinations, a substantial drop from the year-earlier 40% — and the business climate in 2022 was already distressing for foreign firms.
From the archives (May 2023): Foreign businesses in China fear they're being targeted in a 'campaign' of government crackdowns. It's probably not that simple.
"It took a trade war, a breakdown in geopolitical tensions, a pandemic and finally a year's worth of zero-COVID lockdowns, but finally corporates got the message that the days of business-as-usual in China are over — and that they needed not just contingency planning but an actual pivot to ensure their global supply chains couldn't be held hostage to whatever happens in a country half a world away," Leland R. Miller, CEO of the China Beige Book consultancy, told MarketWatch.
There's also been diplomatic and policy confusion from the American side. The Biden administration has sent a parade of high-level officials to China in recent months in attempts to smooth trade and investment relations.
From the archives (July 2023): Yellen complains about China treatment of U.S. companies
Also see (June 2023): Blinken, Xi pledge to stabilize deteriorating ties, but China rebuffs main U.S. request
At the same time, it has imposed restrictions on sensitive technology, such as semiconductor chips, that make some of the Trump administration's trade-war salvos look mild in comparison.
The chair of the U.S. House of Representatives' committee on China is set to meet with top American chip manufacturers to press them to further restrict China's access to related technology, Reuters reported Tuesday — a move that could further disrupt planning and prospects for leading firms such as Nvidia
NVDA,
+1.45%
and Intel
INTC,
-1.36%.
Chinese nationalism, too, has seemed ready to seize on any stumbles among foreign companies and to tighten an embrace of domestic businesses. Private Chinese telecom giant Huawei recently shocked the tech community by unveiling a phone that purports to use its own in-house chip and run at speeds competitive with leading players, potentially circumventing U.S. restrictions. That development "potentially [poses a] downside risk to iPhone sales, especially in the Asia Pacific [region]," said BofA Securities analyst Wamsi Mohan.
Chinese media trumpeted the Huawei release, and the phone sold out in minutes.
At the same time, Apple took a PR beating this week after Chinese social media exploded in anger at an online ad featuring an "ugly caricature" of what was presumed to be a Chinese person. 
Chinese netizens said the worker, donning a pigtail, represented a mocking throwback to "Fu Manchu" clichés. It turned out the ad actually depicted a Native American person and had been used in campaigns in other regions, as well.
Regardless, the mistaken outrage helped to further pressure on Apple shares
AAPL,
+0.49%,
which have fallen some 13% since the start of August.
But the overriding concern among foreign firms was uncertainty and fear of the whims of Chinese government policy.
In April, Shanghai police raided and questioned employees at the U.S. consultancy Bain & Co. The incident was particularly worrisome in that it came just weeks after authorities closed the Beijing office of Mintz Group, a U.S. due-diligence company, and detained several local employees, making the arbitrary crackdowns seem more like policy than one-off incidents.
As the Chinese economy has continued to stumble and foreign investment has sunk to record lows, President Xi Jinping and other top leaders have shifted their rhetoric and attempted to allay concerns among overseas companies.
"We will continue to vigorously promote high-level opening up and better protect the rights and interests of foreign investors per the law," Xi said in late June as data on withering inbound investment came in.
The next month, the Commerce Ministry met with leaders of foreign and domestic drug companies in what it said would be regular roundtables to hear concerns and ideas for cooperation with overseas players.
Tanner Brown covers China for MarketWatch and Barron's.
More dispatches from Tanner Brown:
China's economy is suffering, and consumers won't open their wallets — except to see movies
China's youth job market is a nightmare. It's changing the face of the country.
China's property woes offer a window into the demise of the country's boom times
China is not only asserting itself geopolitically but openly questioning the U.S.'s central role on the world stage
Source link
(This article is generated through the syndicated feed sources, Financetin doesn't own any part of this article)