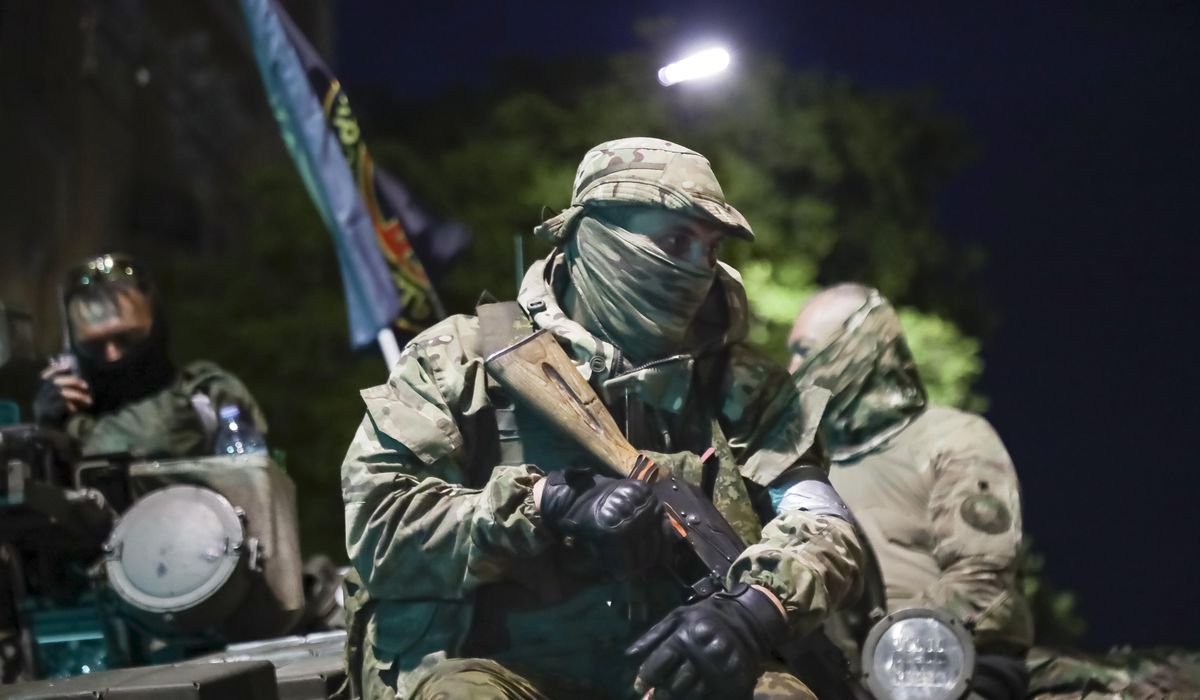 Yevgeny Prigozhin, the founder of the Wagner Group mercenary army, said his aborted march on Moscow over the weekend was over numerous operational failures in Ukraine that he laid at the feet of Russia's military bureaucracy.
On his Telegram social media site Monday, Mr. Prigozhin denied the operation was an attempt to overthrow the government of his longtime benefactor, Russian President Vladimir Putin. He called it "a march for justice" targeting Russian military leaders who he claimed have botched the invasion of Ukraine.
"Wagner was going to be disestablished and we protested that decision," Mr. Prigozhin said Monday. "We stopped when it became clear that blood [would] be spilled."
---
---
Mr. Prigozhin has made no secret of his contempt for Mr. Putin's top military aides and how they have conducted the Ukraine war, targeting in particular Defense Minister Sergei Shoigu and General Staff chief Gen. Valery Gerasimov, saying they have badly mishandled the invasion and denied Wagner Group forces ammunition and needed support to help in the fight.
Separately, President Biden used a White House event Monday to make his first remarks on the Russian crisis, saying the U.S. played no role in the shadowy revolt. Mr. Biden said he had assured Ukrainian President Volodymyr Zelenskyy in a phone call that Washington would continue to support Kyiv.
Wagner's leadership decided to march on the southern Russian city of Rostov-on-Don because it is the command and logistics hub for Russian military operations in Ukraine. The private mercenary firm, which has fought alongside Russian troops in the Ukraine campaign, briefly held the city and was traveling largely unopposed on the road to Moscow when Mr. Prigozhin called off the action and agreed to travel to neighboring Belarus.
---
SEE ALSO: Putin image fades in face of rebellion
---
"The march's aim was not to remove the government, but [was targeted] at the bureaucracy and issues in our country that contributed to so many mistakes in Ukraine," Mr. Prigozhin said.
He acknowledged that some Russian airmen had been killed in confrontations sparked by the uprising over the weekend.
He said his firm "regretted that they were required to carry out strikes against aircraft but they were hitting our forces with bombs and rocket strikes."
He said the Wagner army's nearly successful march into Russia is a template for how the Kremlin should have staged the initial invasion of Ukraine, which failed to achieve its primary goal of taking Kyiv and is now bogged down trying to hold off a Ukrainian counteroffensive in the eastern and southern parts of the country.
He credited Belarusian leader Aleksandr Lukashenko with negotiating an end to the dispute, allowing the Wagner Group to continue its work there. Ukrainian news outlets said camps and training grounds were already being prepared for Wagner Group forces, which number in the thousands.
But the Kremlin may have something to say about that.
The Russian Prosecutor General has launched a criminal case into Mr. Prigozhin for allegedly organizing an armed mutiny against the government The Russian Federal Security Service (FSB), the successor agency to the Soviet Union's KGB, also is investigating what happened, according to the official Russian TASS news agency.
"The case was initiated after Prigozhin's Telegram channel published statements that his units were allegedly attacked and appealed to supporters to come out against the country's top military leaders. The crime is punishable by 12 to 20 years in prison," TASS reported.
Russian military officials denied that they mounted an attack against Wagner Group rear area camps.