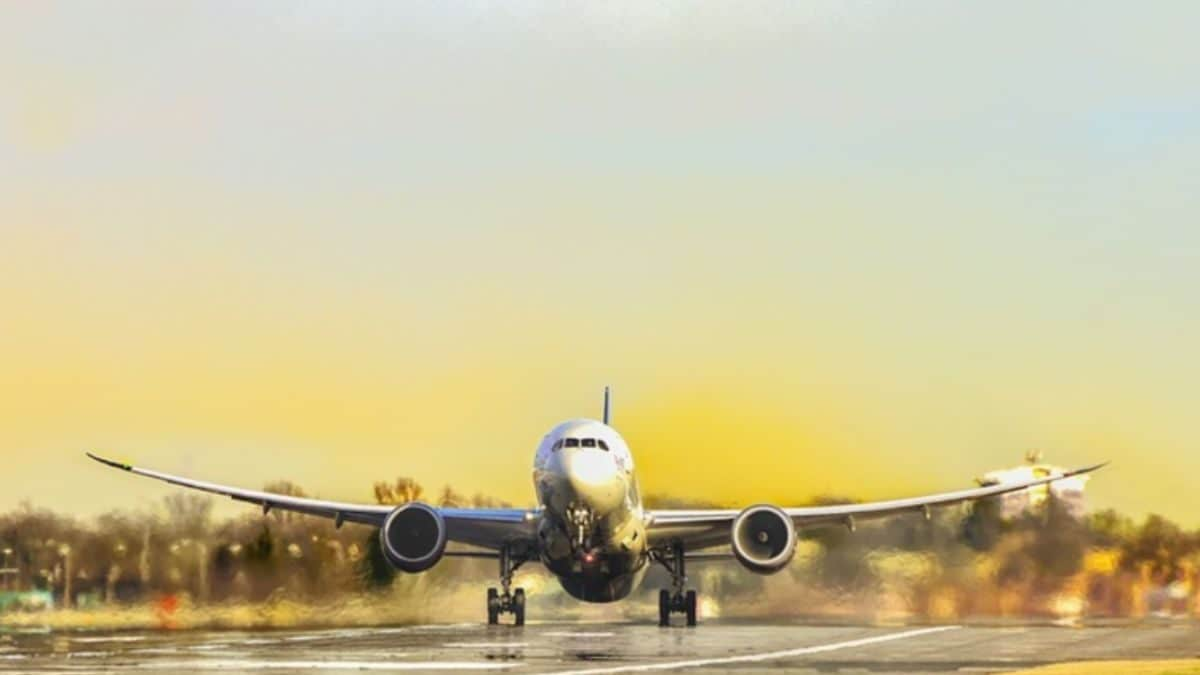 ​ As the board exam results are being announced, students are ready to transition from schools to colleges. The first step in this transition is to make a career choice. To help you in selecting the right professional path for you, every week we explore new professional avenues for you. Bring a unique career and a roadmap that can help you take up a job in that profession. If you have any other queries or have a course or career you want us to explore, write to us on Twitter at @News18dotcom.
We all have at least once dreamt of soaring through the skies, defying gravity, and experiencing a bird's-eye view of the world. One field that would help every individual fulfill this dream is aviation. With India's booming aviation industry and increasing demand for skilled pilots, there has never been a better time to explore this exciting profession. Flight attendants or pilots are typically the first professions that come to mind when someone asks about possible careers in aviation. It's interesting to note that there are several job options available in the aviation industry, and based on personal interests and skills, individuals can explore a wide range of occupations.
With the Indian Civil Aviation MRO market anticipated to grow to $4.33 Bn by 2025, India will likely require 31,000 pilots by the next 20 years. Moreover, according to the PWC India study of 2022, the domestic traffic in the Indian civil aviation industry has increased to become the third biggest in the world. This demonstrates the enormous need for skills the industry currently has and will continue to have in the future.
However, when considering an aviation profession, one must be aware of its benefits and the potential for future chances. To become a pilot in India, one must meet certain educational, age, physical fitness, training, and licensing requirements. Academic qualifications include a minimum of class 12 or equivalent with physics, maths, and English as mandatory subjects. The age requirement for a commercial pilot license (CPL) is 18 years, while the minimum age for a private pilot license (PPL) is 17 years. Candidates must also undergo a thorough medical examination to ensure they are physically fit to fly.
Training and licensing requirements also vary depending on the type of license and aircraft a pilot wishes to operate. For example, CPL training requires a minimum of 200 hours of flying time, while PPL training requires 40 hours of flying time. Pilots must also pass a series of written and practical exams to obtain their licenses.
The growth of the aviation industry in India has led to an increased demand for pilots in various sectors. The country's major airlines are constantly hiring new pilots to keep up with the need for air travel. In addition, there are opportunities for pilots in the military, corporate, and cargo sectors. Various types of pilot careers are available in India, each with its own unique requirements and responsibilities. Commercial airline pilots fly large passenger aircraft and are responsible for ensuring the safety of passengers and crew.
Military pilots serve in the Indian Air Force and are responsible for a variety of missions, including combat operations and humanitarian aid. The Indian Air Force (IAF) is India's largest employer of pilots. Other than IAF, many other government organizations offer pilot job opportunities, such as Indian Coast Guard, Border Security Force (BSF), Central Reserve Police Force (CRPF), etc.
Corporate and private jet pilots fly smaller aircraft for business and personal use, while helicopter pilots fly helicopters for various purposes, including rescue operations and sightseeing. Cargo pilots fly aircraft to transport goods and materials. Aviation is one of the few industries with several benefits, including high salaries, job security, and the opportunity to travel the world.
Depending on the employees' work principles and other variables, each industry has different pay scales. In India, the starting salary for a pilot varies from Rs 12 LPA to 15 LPA. On the other hand, a seasoned aviator may anticipate making an average of Rs 1 crore over the course of their career. The organization that a pilot works for may additionally impact how much they are paid; for instance, a new pilot at a reputable airline typically makes Rs 1.5 LPA per month, which can increase to Rs 7.5 LPA a month after a few years of expertise. Additionally, pilots also receive comprehensive medical and insurance benefits, as well as retirement plans and other perks. The global salary in the growing aviation market is relatively higher by 25-30 per cent for captains.
There are times when pilots in India face several challenges, including long hours, frequent travel, and the stress of operating complex machinery. In addition, the aviation industry in India is highly competitive, with many qualified candidates vying for a limited number of positions. However, the pilot profession in India is poised for growth in the coming years, with the country's aviation industry expected to continue its expansion. Emerging technologies, such as unmanned aerial vehicles (UAVs) and electric aircraft, will likely play a significant role in the profession's future. Pilots must be innovative and adaptable to keep up with these changes and ensure the safe and efficient operation of aircraft.
The growth of the aviation industry in India and the demand for pilots in various sectors make this an attractive career choice for many. India is expected to have over 140 million passengers in FY 2024 alone. However, the profession also poses several challenges, and pilots must be prepared to adapt to emerging technologies and changing industry trends to remain competitive. The pilot profession in India offers a dynamic and rewarding career path for those who are up to the challenge.
— Written by Urvi Jani – Founder / Partner – ThePilot.in
Explore other career options with us: Career in Sound Designing, Sound Engineering | Sustainability Professional | Yoga & Naturopathy | Software Testing | Medical Coding | Cloud Developer & Cloud Architect | 3D Technology | Garment Technologist |AI & Robotics |Fashion Designing |Supply Chain Finance |Animal Welfare | Public Relations | Gaming Industry | Functional Nutrition | Market Research Analyst | Forensic Scientist | Software Testing |
Read all the Latest Education News here
Source link