Warning: SPOILERS for Batman #130Though he often strikes fear in others, Batman has finally admitted the one thing that truly scares him: himself. Batman freely admits that he might be one of the most dangerous people in the DC Universe, and he could easily destroy lives, if not the world. How does he keep the world safe from Batman—from himself?
Over the decades of his history, Batman has become known for his intricate contingency plans, especially for controlling his alien and metahuman colleagues on the Justice League. In the latest arc of the main Batman title, Bruce has been battling a seemingly unstoppable robot called Failsafe. Over the course of the story, it's revealed that Batman himself created the robot in the case that he ever crossed a line by killing someone. He designed Failsafe while deep in the throes of his Zur-En-Arrh persona, an alternate personality he also designed for himself in the case that he would ever need to separate Batman from the emotional realities of Bruce Wayne. This sounds complicated, and it is; these are the lengths Batman has decided he must go in order to protect himself, his family, and Gotham.
Related: Batman, Superman & Wonder Woman's Coffee Orders Perfectly Define Them
Batman reveals just why he goes to such lengths in the finale to the Zur-En-Arrh origin story by Chip Zdarsky, Leonardo Romero, Jordie Bellaire, and Clayton Cowles from Batman #130. The story has been exploring just why and how Batman designed the Zur-En-Arrh persona for himself. The finale concludes with Batman realizing he needs light and joy to balance the darkness of Batman. And he knows he needs that balance, because, as he explains: "Not much scares me. But the idea that I may be the most dangerous man alive does."
Batman Needs Bruce Wayne to Save the World from Himself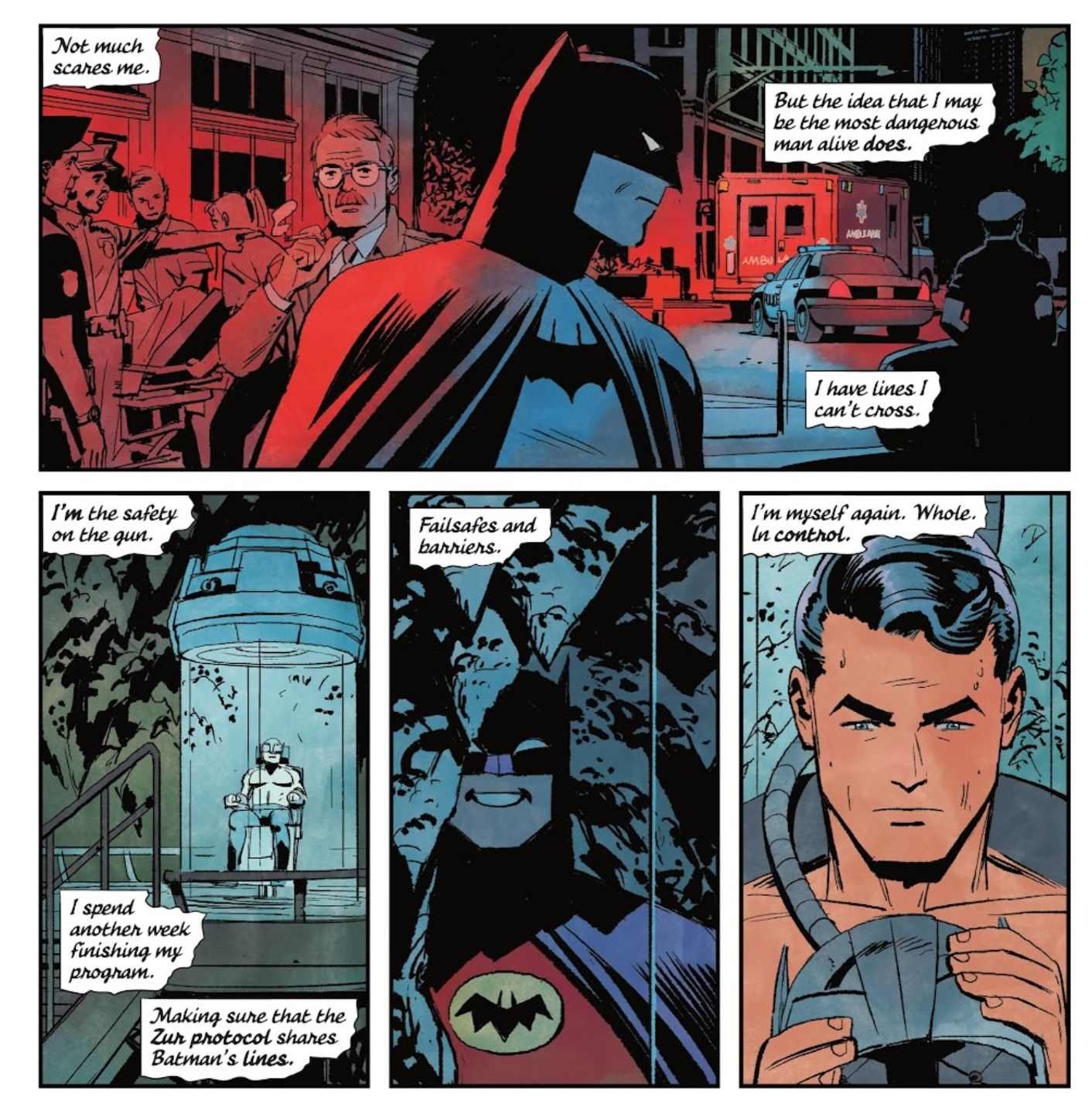 This revelation makes perfect sense for a character like Batman, who trusts so few people in his life. Now readers know that he doesn't even trust himself, and so feels compelled to design multiple "failsafe" programs for himself. Readers have seen time and time again that Batman is one of the most dangerous people in the world. He famously designed contingency plans for his own Justice League compatriots, which nearly destroyed the League when they fell into the wrong hands. Importantly, though, Batman knows he has one unstoppable "safety" that will always succeed: Bruce Wayne.
Bruce Wayne's love and compassion will always save Batman from the darkness inherent in the character, and so will also save the world from the "most dangerous man alive." Batman might be terrified of his own power—both physical and mental—but as long as he remembers that he is Bruce Wayne first and Batman second, that "safety" will always remain in place.
Next: Even Catwoman Admits She Knows Batman Is Her Future
Check out Batman #130, available now from DC Comics!