In 2014, a French short film titled Majorité Opprimée (Oppressed Majority) went viral. The short film, directed by Eléonore Pourriat, sees her male lead Pierre subjected to the indignity and terror women face every day – on the streets, in workplaces and even their own homes – creating a topsy-turvy world where men are treated with casual disregard, even violent contempt, by women. The video has been viewed more than 13m times on YouTube and remains a confronting reminder of the inequity between the sexes.
But it isn't the first time this shoe-on-the-other-foot scenario has played out on screen. More than 100 years earlier, Alice Guy-Blaché, another French female director, widely regarded as the world's first female director, had a similar idea. Her 1906 film, Les Résultats du féminisme (The Consequences of Feminism) also skewers gender roles. Men in Guy-Blache's reimagining of the belle epoch powder their noses, sew, tend to young children and fend off unwanted advances from sexually domineering women who spend their time smoking, drinking and leisurely reading newspapers.
Guy-Blaché's seven minute silent picture is just one of more than 150 assets on display at Acmi's Goddess exhibition, which opened this week in Melbourne and will run until October, as part of the Melbourne Winter Masterpieces program.
Acmi has said that show is designed to honour "the artists who challenged narratives, defied expectations and transcended tropes", while unpacking the ways in which screen culture has influenced society's perceptions of womanhood. Guy-Blaché's seminal film is just one example of how women have used cinema to take control of how the world sees them. Other tactics have perhaps been more subtle, but no less powerful.
The pink satin dress worn by Marilyn Monroe to perform Diamonds are a Girl's Best Friend in Gentlemen Prefer Blondes is an apt opener: the iconic evening gown was an 11th-hour costume change, chosen by the film's producers to project a more demure image on Monroe after her nudes were sold to Playboy.
Monroe's dress has since come to symbolise the unapologetic embrace of feminine wiles, and has continually resurfaced in pop culture, invoked by everyone from Madonna to Kendall Jenner. In Goddess, you can see versions worn by model Winnie Harlow, actor Margot Robbie and Pitjantjatjara and Yankunytjatjara actor Elaine Crombie, in front of a heady montage of the gown's many reimaginings on screen. It is a neat way for curators to put the exhibition's core questions to punters: what makes a screen goddess? And how have women themselves influenced that concept? Bethan Johnson, the exhibition's curatorial lead, wanted Goddess to "celebrate artists who have done so much to help challenge ideas about women's fragility"; a hot pink frock is as good a uniform as any to do that in.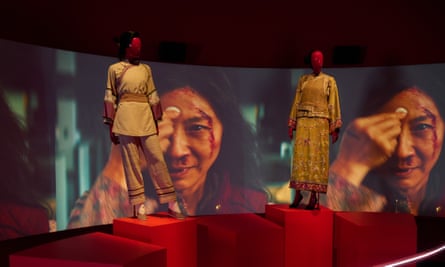 Compact and serene, the exhibition's salmon-hued ambience gives an understated warmth to the fortitude it showcases. Subversion of the patriarchy doesn't necessarily benefit from emulating it. That fact was understood all too well by many of the formidable women highlighted in the exhibition, trailblazers like Dorothy Dandridge, the first black woman to be nominated for an Academy Award; Fearless Nadia, an Australian woman who became Bollywood's leading stunt woman in the 1930s and Pam Grier, famous for her performance as the indomitable Coffy in the Blacksploitation classic Shaft and the titular lead in Quentin Tarantino's Jackie Brown.
Costumes and original film posters are mixed in with curios like Mae West's foot prints (used for bespoke shoe design), to an exhibit devoted to the "hagsploitation" genre that features Bette Davis tongue-in-cheek classified ad looking for "steady employment in Hollywood" in a 1962 edition of Variety. Citing her 30-years of experience in the motion picture industry, the 54-year-old wryly adds that she's "mobile still and more affable than rumour would have it".
From Marlene Dietrich's groundbreaking white tuxedo to Michelle Yeoh's combat outfits from Crouching Tiger, Hidden Dragon, Goddess hosts an impressive collection of original costumes – including the transformative wardrobe of unforgettable road trip renegade Thelma in Thelma and Louise, played by the exhibition's lead ambassador Geena Davis, whose non-profit the Geena Davis Institute on Gender in Media has partnered with Acmi to put on the exhibition. (After Melbourne, Goddess is set to tour the world.)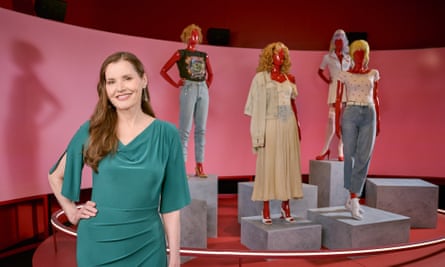 Dispensing with most of the gimmicky interactivity, the curators of Goddess have instead opted for an elegant walk-through experience that's neither overwhelming or boring. In a welcome reprieve from the HD horrors of modern smart TVs, Acmi's powerful projectors and screens honour the vintage prestige of the films and clips on display to glamorous effect. Perfectly pitched soundscapes accompany each exhibit without interfering with those nearby. All in all, it makes for a pleasant meander through 120 years of the history of women on screen, resplendent in all the grit and glamour one would hope to see.
Source link