 S&P 500

blended EPS growth for Q4 continues to fall, now expected to come in at -5.3%
Peak earnings season rolls on this week with 1,447 global companies expected to report
Potential surprises this week: PYPL, HLT
Another week, another tick down for Q4 earnings growth which now clocks in at -5.3% YoY with half of the index reporting. Big misses from big tech names such as Meta (NASDAQ:), Alphabet (NASDAQ:), Amazon (NASDAQ:) and Apple (NASDAQ:) sent the growth rate lower. However, not all of these names were punished for falling short of expectations. Meta was revenue expectations and greatly cut costs during the quarter. Investors rewarded that news by taking the stock to its highest level in over a decade. 
Still, only 70% of S&P 500 companies have surpassed estimates, that's lower than the 5-year average of 77%. On top of that, companies are only beating by an average of 1.5%, well below the 5-year average surprise of 8.6%. 
While earnings results for Q4 remain a bit drab, guidance has been coming in better than expected. Add to that economic indicators that have been revealing positive news about the health of the US economy: grew 2.9%, increased by 517k in January, and the rose to 55.2 in January, representative of robust growth in the service sector.
Peak Earnings Season Continues this Week
This marks the second peak week of the Q4 earnings season, with 1,447 companies (from our global universe of 9,500 equities) anticipated to release results, 95 of those coming from the S&P 500.
We get a smattering of reports across different sectors this week, some names that will be garnering plenty of investor attention include: Disney (NYSE:), Chipotle (NYSE:), Robinhood (NASDAQ:), Uber (NYSE:), Lyft (NASDAQ:), Under Armour (NYSE:) among others. This week also includes reports from several names that are setting up to potentially surprise (to the upside or downside), including PayPal (NASDAQ:) and Hilton (NYSE:).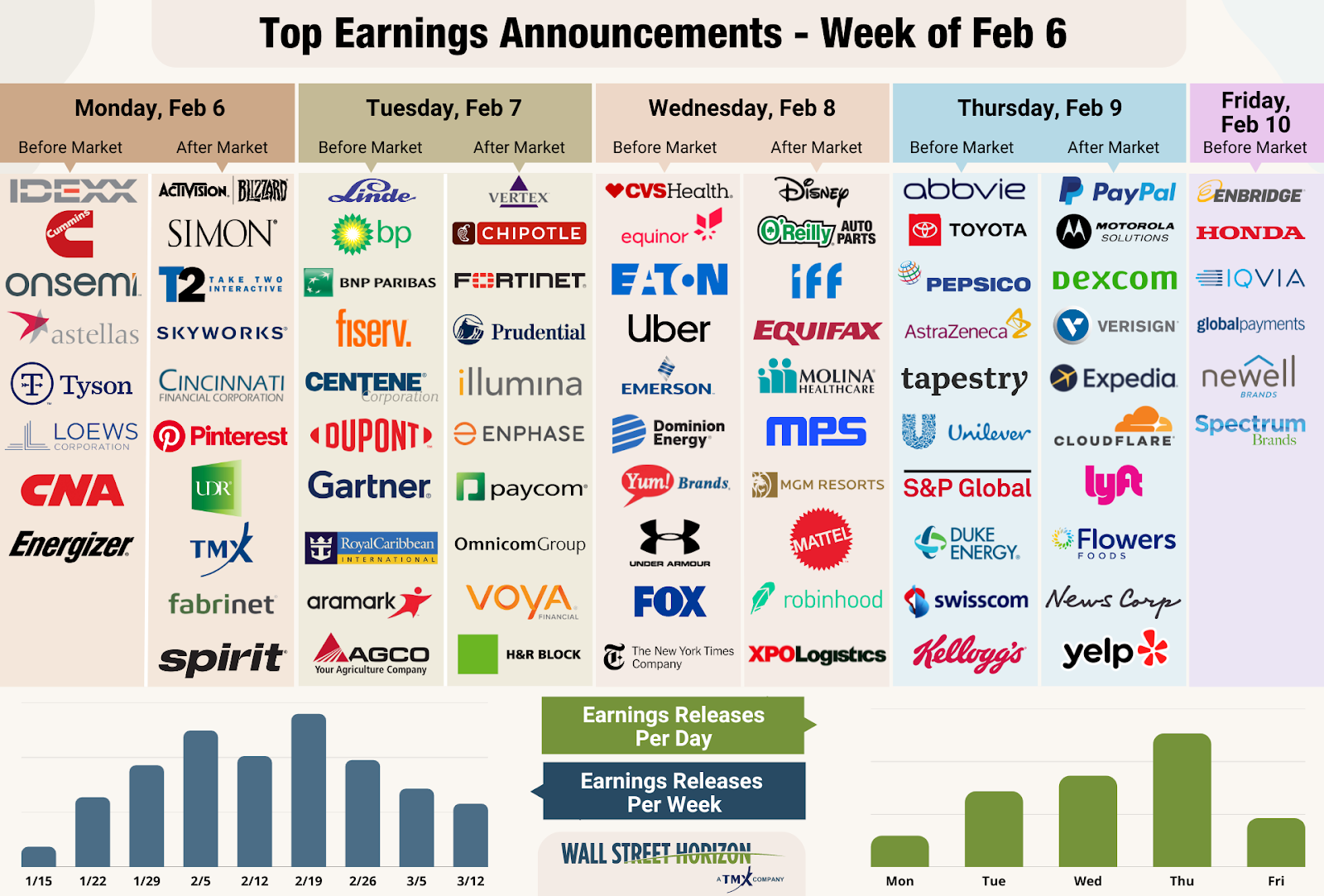 Source: Wall Street Horizon
Potential Surprises in the Week Ahead – PYPL, HLT
This week we get results from a number of large companies on major indexes that have pushed their Q4 earnings dates outside of their historical norms. Seven companies within the S&P 500 confirmed outlier earnings dates for this week, five of which are later than usual and therefore have negative DateBreaks Factors*. Those three names are Xylem Inc. (NYSE:), Lincoln National Corporation (NYSE:), AvalonBay Communities (NYSE:), Eaton Corporation (NYSE:), and PayPal Holdings.  According to academic research, the later than usual earnings dates suggest these companies will report "bad news" on their upcoming calls. Federal Realty Investment Trust () and Hilton WorldWide Holdings confirmed earlier than usual dates, suggesting they will report "good news" on their upcoming calls.  
PayPal Holdings

Company Confirmed Report Date: Thursday, February 9, AMC
Projected Report Date (based on historical data): Tuesday, January 31
DateBreaks Factor: -3*
On January 12, PayPal confirmed a Q4 earnings date of February 9, more than a week later than we had anticipated based on historical reporting trends. Typically we would take this as a sign of bad news to come on the upcoming call, but it's important to be aware of the movement around PYPL. 
PayPal has had a lot of high-profile management changes in the last year. In April 2022, long-time CFO John Rainey left to take the same role at Walmart (NYSE:). In September, newly-hired CFO Blake Jorgensen announced he was taking a leave of absence to treat a medical condition.  Acting as interim CFO is the company's senior VP of Investor Relations, Gabrielle Rabinovitch. Add to that, Chief Accounting Officer Jeffrey Karbowski will exit on February 10 to take a similar role at Netflix (NASDAQ:). Rabinovitch will also take over the CAO role in the interim. All of this change at the top could be the reason for the later-than-usual earnings date. 
The company also announced they were laying off roughly 2,000 employees, or 7% of staff, a move that was applauded by investors who drove the stock up 2% on the day of the announcement. 
Hilton Worldwide Holdings
Company Confirmed Report Date: Thursday, February 9, AMC
Projected Report Date (based on historical data): Wednesday, February 15
DateBreaks Factor: 2*
For Q4 2022, hotel giant Hilton has confirmed an earnings date that is nearly one week earlier than predicted. Since IPOing in late 2013, the company has reported Q4 results from February 11 – February 27. This year will be the earliest they have reported fourth-quarter results, and the first time they will report those results in the 6th week of the year, as opposed to the 7-9th week. Could Hilton have some good news to share? 
Currently, sell-side analysts expect the company to report EPS of $1.23 for Q4, suggesting a 71% YoY increase. Revenues are also expected to grow to 28%. Leisure stocks have done persistently well, buoyed by high employment, even as concerns around a potential recession picked up last year. Consumers continue to show that they are prioritizing travel and being with friends and family in the wake of the COVID-19 pandemic. The sector is responding by beefing up staff, with leisure and hospitality leading all sectors by adding 128k jobs in January.
Earnings Wave – Peak Week Begins
This week marks the second week of Q4 peak earnings. This season peak weeks fall between January 30 – March 3, with each week expected to see over 1,000 reports. Currently, February 23 is predicted to be the most active day with 686 companies anticipated to report. Thus far only 62% of companies have confirmed their earnings date (out of our universe of 9,500+ global names), so this is subject to change. The remaining dates are estimated based on historical reporting data. Keep in mind the Q4 reporting season is always a bit more prolonged, typically stretching over 4 or 5 peak weeks rather than the usual three peak weeks seen in Q1 – Q3.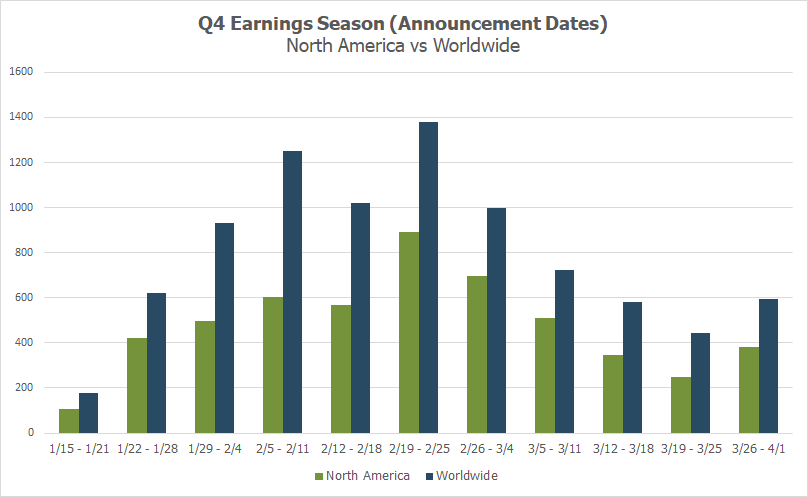 Source: Wall Street Horizon
Source link
(This article is generated through the syndicated feed sources, Financetin doesn't own any part of this article)
Thank you for reading this post, don't forget to subscribe!