Prior to being detained in a Russian prison for 294 days, Brittney Griner was on top of the world.
The 32-year-old was coming off one of the best WNBA seasons of her career. She was the Most Valuable Player runner-up, averaging 20.5 points and 9.5 rebounds for the Phoenix Mercury, who she led back to the WNBA finals for the first time since winning the title in 2014. Meanwhile, Griner was on her way to play for Russian club UMMC Ekaterinburg, who she had led to four EuroLeague titles since she started spending her WNBA off-seasons there in 2014.
At the time of her arrest Griner was, according to the testimony of her Russian teammate Evgenia Belyakova, "the most beloved player in Russia."
To become such a popular figure in both America and Russia is no easy task for a gay, Black woman. But Griner's ascent was never easy. She was bullied relentlessly growing up, first for her size and later for her sexuality, becoming one of the first active athletes in professional North American sports to come out as gay, shortly after being drafted No 1 overall by the Mercury in 2013.
In her first game as a pro, the 6ft 9in Griner towered over her opponents, changing the perceptions of what a female basketball player was capable of when she set a WNBA record with two dunks in a game. Griner went on to win a WNBA title, two Olympic gold medals, and seven WNBA All-Star appearances, on pace to achieve a level of greatness few ever have in the women's game, and being marketed accordingly.
In fact, Griner was the first openly gay athlete to be endorsed by Nike. And the WNBA used her at the center of its marketing, acknowledging that gay athletes and LGBTQ+ activists like Griner were good for business.
So when it all came crashing down at a Moscow airport on 17 February 2022, when Griner was found with vape cartridges containing traces of hashish oil in her luggage, not only did her career come to a screeching halt, but the league that she had been bound to since 2013 lost some of its forward momentum, too. She was later sentenced to nine years in Russian prison.
As much as Griner tried to stay positive, and as much as the WNBA community tried to help, a cloud hung over the entire 2022 season – one that would not dissipate until Griner was released and returned to America.
"Last year, it felt as though we couldn't play with joy … It felt bad for us to be happy or to celebrate things because the weight of BG's wrongful detainment weighed over us," says former Mercury head coach Vanessa Nygaard.
When the US negotiated a prisoner swap to secure Griner's freedom last December, she almost immediately announced her intention to return to the WNBA in 2023, signing a one-year deal with the Mercury. But nobody knew what to expect from Griner, who had spent almost a year under arduous physical and mental conditions.
But, against all odds, Griner appears to be back to her normal self, on and off the court.
In her first WNBA game in 579 days, Griner had 18 points, six rebounds and four blocks in a loss to the Los Angeles Sparks. In her first home game a couple of days later, she hit just the seventh three-pointer of her career, yelling "I'm back!" to the crowd of 14,000 cheering fans.
"I appreciate everything a little more," Griner said about being back in the league. "All the little, small moments that I used to just [think]: 'Oh, I'm so tired, I don't want to go to practice today. And, oh, this and that.' That has changed, honestly. Just appreciating everything because tomorrow's not guaranteed."
Griner is averaging 19.1 points, 6.4 rebounds, 1.7 assists and 2.4 blocks on a career-high 61.8% shooting through her first nine games of the 2023 season. She is back to being the Mercury's best player, dominating in the post over swarms of defenders and blocking everything that comes her way on the other end of the floor. After being an honorary All-Star selection last season, Griner was named an All-Star starter on Sunday.
But what may be even more impressive is the enthusiasm and spirit she has brought to the Mercury and the WNBA, constantly flashing her trademark smile, joking around at press conferences, and uplifting her teammates at every opportunity.
"We were all hoping that she was going to be OK coming back, and that she did not lose her light, and she really didn't," says Mercury forward Megan Gustafson, adding that Griner's presence has transformed the locker room. "I think we were a little bit surprised, because anyone that goes through an experience like that – I mean, I couldn't even imagine being the same person. But she really is and I'm just so proud of her and just the light that she brings again … It's really just her light, her positivity that [has] shone through."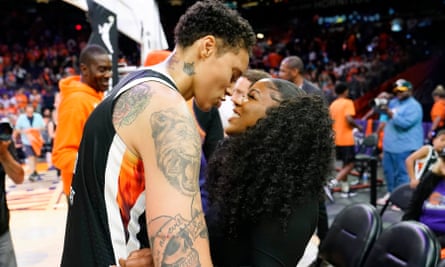 Sandy Brondello, who coached Griner in Phoenix for eight seasons prior to moving on to New York, is also glowing about the player's return to the WNBA. "It's like sometimes we sweat having a bad game – she was in prison," says Brondello. "She had to live in prison for such a long time. So I think she has that joy. Just go out there and play."
Griner has brought a lot of attention to the WNBA, which was already growing rapidly. Not only is the league averaging almost 1,000 more fans a game in Griner's return season, but its broadcasts have also hit record viewership numbers – up 49% from last season across ESPN networks.
"I think that if you look at last season, there was something and someone missing in the WNBA and that was obviously Brittney Griner," former WNBA MVP and Griner's one-time UMMC Ekaterinburg teammate Breanna Stewart says. "So the ability to have her back here kind of makes our circle complete, because she is such a force and a presence on and off the court and her ability to kind of be so dominant and aggressive but also such a kind, caring person – everybody's missed that."
Griner's on-court play cannot be separated from her political advocacy off it, especially in a league as socially active as the WNBA. And Griner's imprisonment has forced the WNBA to reckon with its lackluster treatment of athletes in the past, forcing the league to improve pay and travel standards so that the Griner situation does not repeat itself.
After all, the primary reason that Griner was in Russia in the first place is because her salary at UMMC Ekaterinburg is over $1m compared to the $165,100 she will make this year in the WNBA. In fact, 67 of the league's 144 players still played internationally last off-season despite Griner's detainment. Doing so is a financial necessity rather than a choice for most of the world's best female basketball players.
The incident also highlighted concerns about commercial travel for WNBA players, many of whom are gay, Black women who can be targets of abuse. In fact, Griner has already been harassed this season when a conservative media personality confronted her and her teammates inside a Dallas airport in mid-June.
In the past, the league has argued that charter flights create an unfair competitive advantage for teams that can afford to pay for them, fining the New York Liberty $500,000 for chartering flights last season. But the WNBA has already made improvements this season, allowing private flights for back-to-back games and for all playoff games. And after the news of Griner's harassment and the pressure that came from it, the league recently announced that teams are permitted to fly on a public chartering service called JSX for the rest of the season.
It's a step in the right direction that may not have been possible if not for Griner – a singular force who is as easy to galvanize around because of her on-court performances as she is for her personality. The league still has a long way to go in regards to growing the game and improving standards for its athletes, but Griner's return has undoubtedly expedited the process.
"It's a shame that it had to get to rock bottom. Because I feel like waiting for something to happen and then making a change, you don't know what that something's gonna be," Griner said. "We've all seen what can happen in this world. And when you play the 'let's wait and see game,' you're really playing with fire. You're playing with people's lives.
"So I'm glad that they finally got it together and are going to allow us to do this. It's just a shame that it took so damn long."
(This article is generated through the syndicated feed sources, Financetin neither support nor own any part of this article)