The United States Securities and Exchange Commission (SEC) has raised concerns about the recent filings for spot Bitcoin exchange-traded funds (ETFs), stating that they are insufficient. This comes after asset management giants BlackRock and Fidelity submitted their applications to launch spot Bitcoin ETFs.
The Wall Street Journal reported that the SEC shared its perspective on the filings with Nasdaq and Cboe. Specifically, the agency expressed that the filings lacked clarity and comprehensiveness.
Following the release of this news, Bitcoin experienced a drop of nearly 2% in its value. Similarly, other altcoins, including XRP, also saw a decline in their respective charts.
Over the past 24 hours, XRP witnessed a decrease of approximately 1%, while on the weekly chart, it recorded a loss of more than 4%. As a result, the technical outlook turned bearish, leading to a decrease in investor interest.
The charts reflected a decline in both demand and accumulation. Currently, XRP is hovering around a crucial support level, and a breach of this level may potentially trigger an upward movement for XRP. The market capitalization of XRP decreased, indicating that sellers had a stronger grip on the market.
XRP Price Analysis: One-Day Chart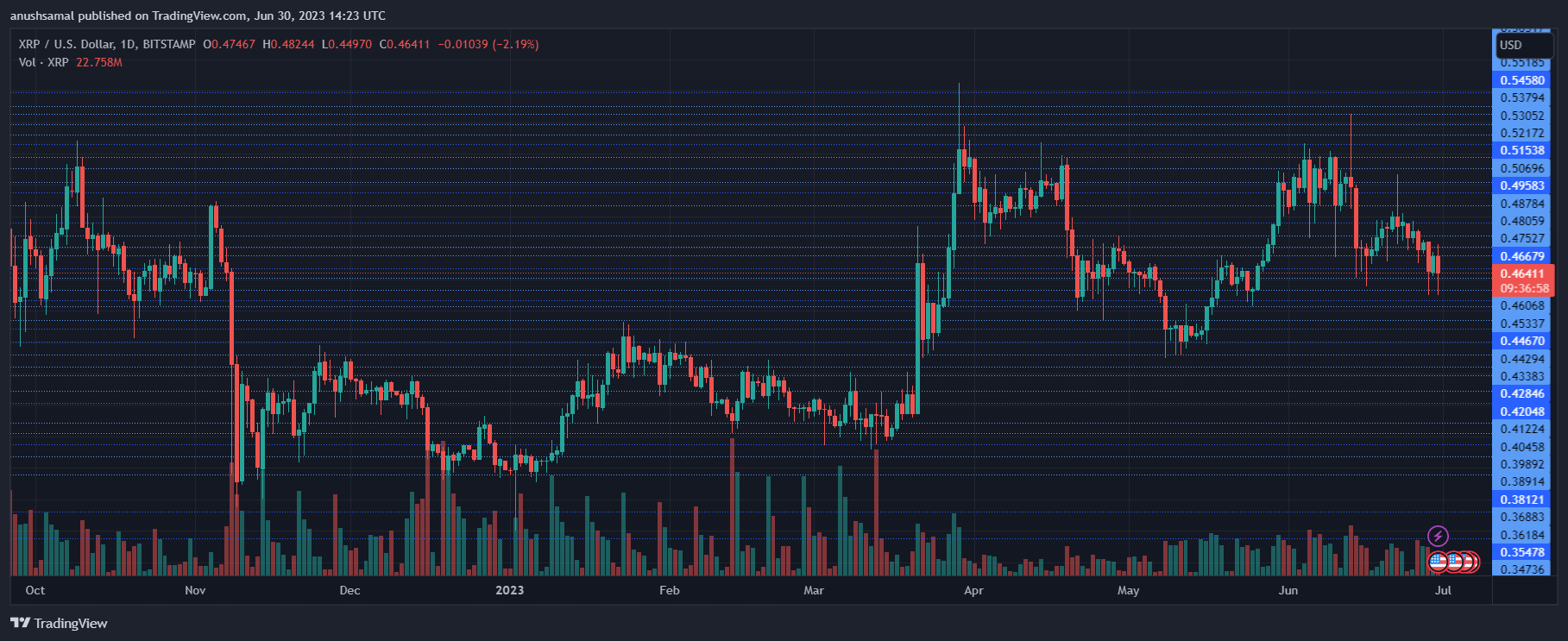 As of the time of writing, the altcoin XRP was trading at $0.46. Currently, XRP has reached its lowest level since the end of May. This level has historically acted as a significant support level for the coin. This level is often referred to as a bullish order block, and it has the potential to drive price recovery.
Looking ahead, the first hurdle for XRP would be the resistance at $0.48, followed by a potential move above the $0.50 mark. However, if XRP faces another rejection at $0.50, it could lead to a return to trading at $0.46 and possibly even a further decline to $0.43.
Technical Analysis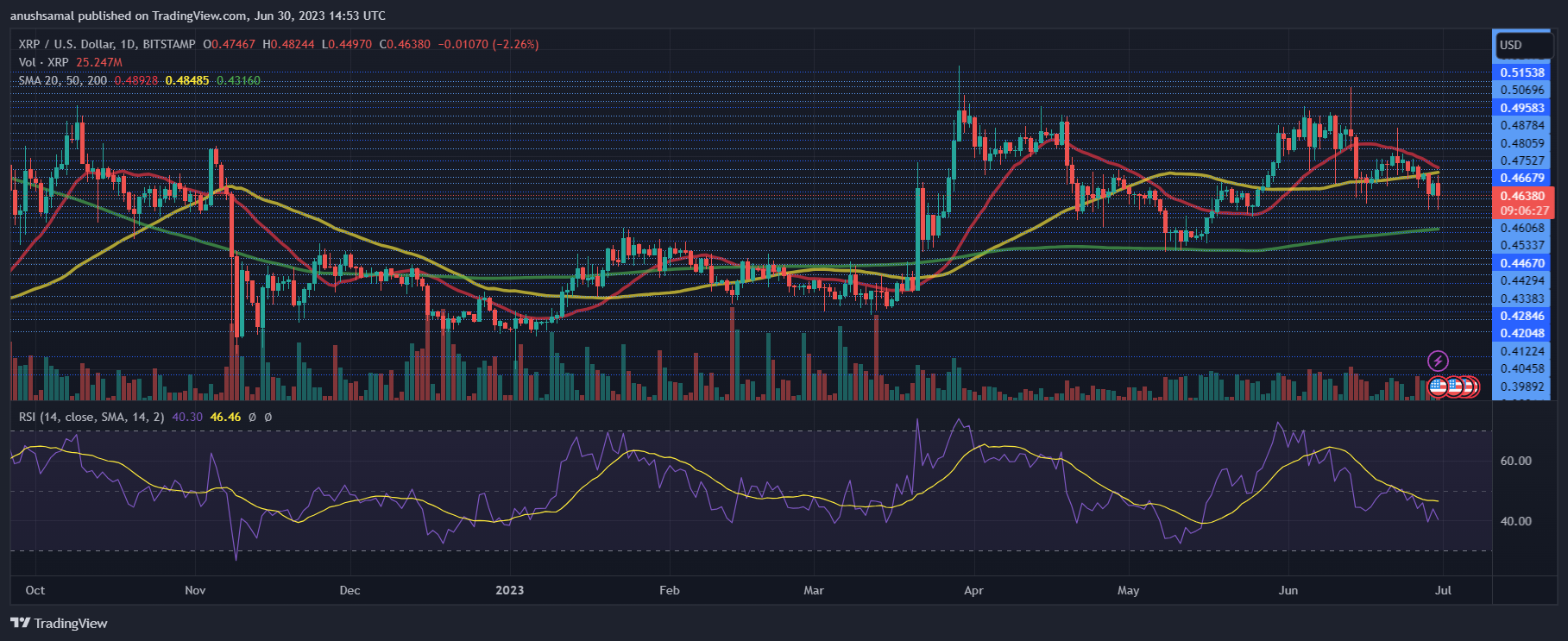 Due to low demand, there has been a decline in buying interest. The Relative Strength Index (RSI) is currently below the half-line and close to the 40-mark, suggesting that buyers have lost their influence and sellers have gained control.
Similarly, XRP has dropped below the 20-Simple Moving Average line. This indicates a weakening demand and implies that sellers are currently driving the price momentum in the market
As demand for the altcoin decreased, the altcoin generated sell signals, although these signals were diminishing in size. This indicates that the bearish momentum might be subsiding.
The Moving Average Convergence Divergence (MACD) showed red histograms associated with the sell signals, but their size was decreasing. This suggests that while bearish sentiment still existed, the price could potentially experience a rebound in the near future.
When considering volatility, the Bollinger Bands are used. In this case, the bands were wide and parallel, indicating a range for the altcoin. The upper band, which aligned with the $0.52 price level, is expected to serve as a significant resistance level.
Featured image from Unsplash, charts from TradingView.com
Source link